The Infrastructural City:
Networked Ecologies in Los Angeles
Edited by Kazys Varnelis (2008)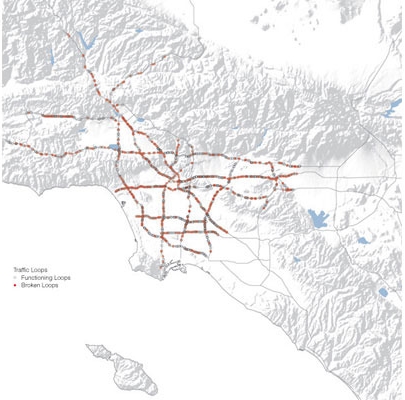 from The Network Architecture Lab:
Planners used to deploy new infrastructure to fix existing urban ills and to support new cities on the frontier where man met nature, but today infrastructure forms a new frontier: it is itself wild, untamable and often impossible to understand. Our project takes Los Angeles as a case study to examine how out of control, hybrid, and perverted infrastructures affect the contemporary metropolis as it explores the more hacker-like means of operating in this condition.
Part-atlas, part-manual, The Infrastructural City takes an unauthorized tour through the city, brought to life through vivid essays, photographs, maps, and diagrams. This timely and lavishly illustrated book illuminates the new ways in which changing conditions of infrastructure affect life in L. A. and cities worldwide.
The book includes 23 maps by Leah (a few are featured above), which work as a basis on which to relate the collected essays and photo-essays, across the region's landscape and history. From the book: "Initial inspiration for the maps came from Frank Ruchala's OiLA thesis at the Harvard Graduate School of Design. [...] Our intent has been to lend consistency to the essays with twenty-first century counterparts to Mary Banham's maps for Los Angeles: The Architecture of Four Ecologies."